Enjoying 9-month revenue over 2.6 billion baht, rising 66% from the same period of 2018, while operating profit grew 9%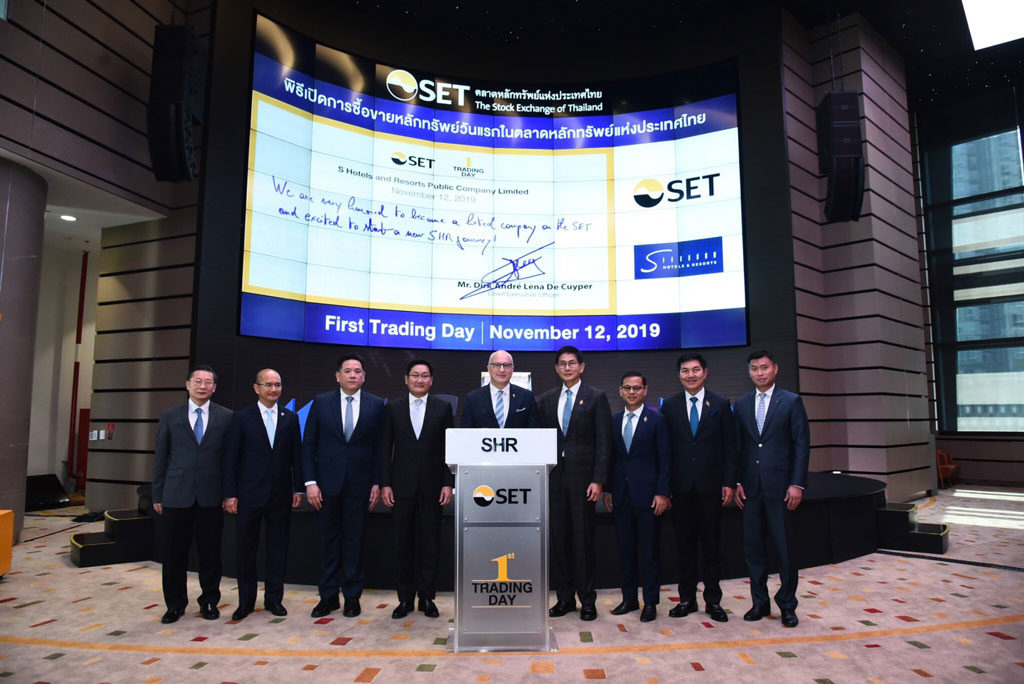 S Hotels & Resorts Public Company Limited or 'SHR', today debuts on the Stock Exchange of Thailand and brings its shares to trade for the first day. The company is confident in its capability and the expansion plan to double the number of hotels to be 80 properties by 2025.
Mr. Dirk De Cuyper, Chief Executive Officer of S Hotels & Resorts Plc, said the company has brought SHR ordinary shares to trade on the Stock Exchange of Thailand for the first day today (12 Nov 2019) after launching its initial public offerings (IPO) and allocating 1,437,456,000 shares at the price of 5.20 baht per share to shareholders of Singha Estate Plc, the parent company of SHR, and general public in early November. The company successfully raised 7,475 million baht as planned. SHR IPO shares have received huge interest from both Thai and foreign investors with 60% of the IPO shares subscribed by institutional investors and the remaining 40% by retail investors. This reflects investor confidence in SHR's strong fundamentals and its capability to build sustainable growth in the future.
"SHR has strong fundamentals which demonstrate its business growth potential. SHR has the fastest growth in terms of revenue and number of rooms when compare to other SET-listed peers in the hospitality business. We aim to double the number of properties in our portfolio, from currently 39 hotels and resorts with a total of 4,647 rooms to be 80 properties, with more than 8,000 rooms by 2025. This accounts average annual growth rate of 15% per year," Mr. De Cuyper said.
Mr. Chairath Sivapornpan, Chief Financial Officer of S Hotels & Resorts Plc, said raised proceeds from the IPO will be used for hospitality business expansion and investment in both domestic and overseas markets. The fund raised will be also used for loan repayment and as working capital for project developments including capital expenditure for renovation on rooms and public areas of SHR properties.
For the performances during 2016-2018, the company posted an average growth rate of 63. 1% per year with total revenue of THB 968 million, THB 1,074 million and THB 2,575.7 million, respectively.
During the first nine months of 2019, the company recorded revenue of THB 2,639 million, up over 66% from the same period a year earlier, while earning before interest, tax, depreciation and amortization (EBITDA) in the nine-month period of 2019 was at THB 783 million, a 9% increase. The rise of revenue and EBITDA in the first nine months of this year was mainly driven by the nine-month revenue recognition from six Outrigger resorts acquired in mid 2018 and the opening of two new resorts at CROSSROADS since September 2019. Overall, the performance is satisfying. There were one-time expenses of total 260 million baht from the opening of two resorts and The Marina at CROSSROADS in the Maldives and the SHR listing on the SET. Also, the company carried about 150 million baht of financial cost from bank loans that used to finance the Outrigger acquisition in June 2018. These one-time expenses will not be recurred.
"The raised proceeds from IPO will be used to repay bank loans, which will will reduce financial cost and further strengthen our financial status. Together with a good response from the two newly-opened resorts at CROSSROADS, which will have a full-year operation next year, and the continuing of a strong EBITDA on the other eight fully-owned properties, we're optimistic that SHR will have a sustainable growth next year," Mr. Chairath said.
---
About S Hotels & Resorts Public Company Limited
S Hotels & Resorts, the hospitality arm of Singha Estate Public Company Limited, is a new era Thai-inspired personalized hospitality company that caters to upscale travellers with an independent spirit. The group offers guests a portfolio of 39 properties in 5 countries with a total of 4,647 keys and provides guests with the opportunity to experience the best destinations from a unique perspective while enjoying world class facilities and tailored services. S Hotels & Resorts' properties are located in attractive, unspoiled locales to provide an exclusive playground built around nature, culture, wellness and adventure, with luxurious amenities and fine cuisine. Each property boasts its own distinctive, destination sensitive designs and unique signatures while also providing consistency thanks to a welldefined brand philosophy and a service culture that focuses on exceptional guest experiences backed up by Thai-inspired hospitality and global quality standards. To learn more, visit www.shotelsresorts.com.
S Hotels & Resorts Plc
123 Suntowers Building B, 10th Floor, Vibhavadi-Rangsit Road, Chom Phon, Chatuchak, Bangkok 10900
Tel. +66 (0) 2058 9888
www.shotelsresorts.com
For media contact
124 Communications: PR Consultant for SHR
Kanyanut Srichaipatarakul (Aom) Tel. 089-457-1180
E-mail: kanyanut@124comm.com