A wide range of journeys allows guests to uncover a spectacular seascape, including tropical island, hidden caves and dramatic dive spots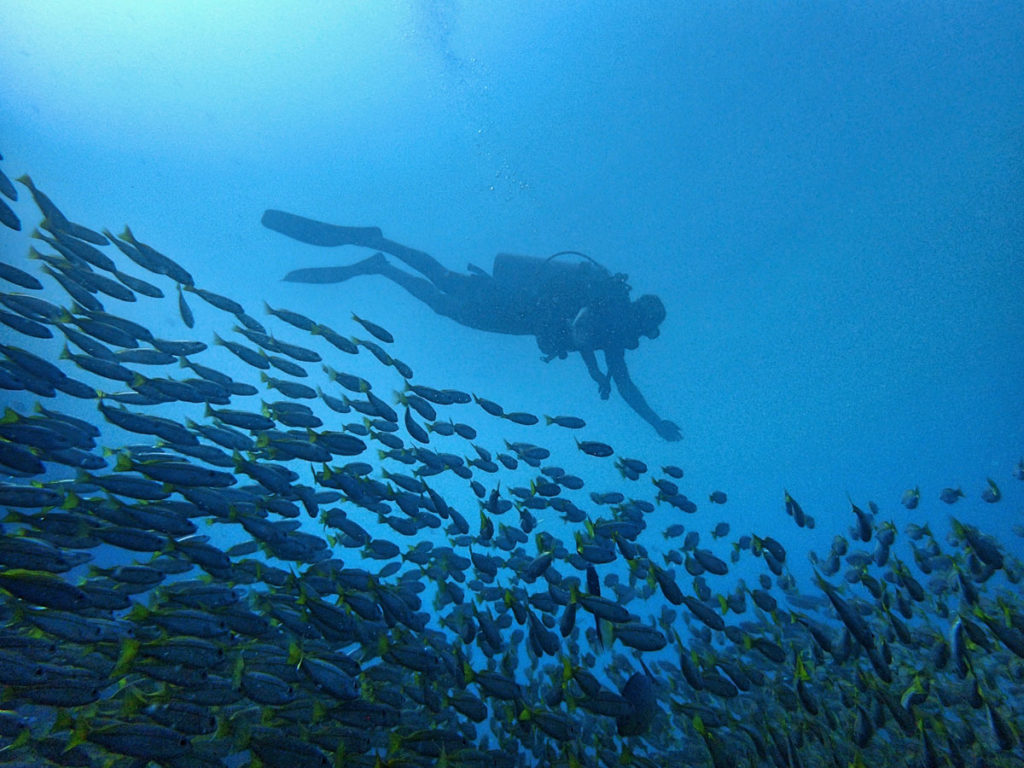 Koh Phi Phi, Thailand (16 September 2019): The Phi Phi Islands are a genuine paradise on Earth. These emerald green jewels, fringed by white sands and turquoise seas, fulfil every traveller's dreams of an exotic island idyll. It is little surprise that this other-worldly archipelago is so often chosen by film-makers, including those seeking the world's most perfect beach.

But Phi Phi's beauty is not only skin-deep. Guests who delve a little deeper into this exquisite ecosystem will discover a wider world of wonders, including mesmerising marine life and secluded lagoons, far from Thailand's busier tourist beaches.

Phi Phi Island Village Beach Resort now invites guests to explore the many marvels of Phi Phi and the Andaman Sea, above and beneath the waves, with a series of eco-sensitive excursions and off-the-beaten-track tours.
The resort's PADI-certified five-star dive centre offers an array of professional trips into the amazing underwater world, allowing guests to discover colourful corals, iridescent fish and a striking variety of marine life, including seahorses, sharks, rays, turtles and much more. Phi Phi is also one of the few places on Earth where divers can come face-to-face with the world's biggest fish - the magnificent whale shark.

The highly skilled team at the dive centre presents a full range of courses, from Junior Diver and Bubblemaker programmes to Open Water courses and even advanced options, like Wreck Diver, Night Diver and Underwater Photographer tours. So whether you're a seasoned diver or a first-timer, Phi Phi Island Village Beach Resort allows everyone to experience the magic of the Andaman Sea.

Importantly, the dive centre is actively engaged in marine conservation. As a member of the United Nations' Green Fins project, it is dedicated to working in harmony with the environment and preserving the area's delicate biodiversity. Back on dry land, the resort's innovative Marine Discovery Centre is an interactive educational hub that enables all guests, including youngsters, to play an important role in protecting Phi Phi's unique marine ecosystems.

The spectacular seascapes of the Andaman also create outstanding opportunities for island explorations. Guests can visit remote beaches, bays and lagoons all around this alluring archipelago with a choice of private boat tours to island gems such as Koh Yung, Koh Poda, Koh Kai, Koh Mor and of course, the iconic James Bond Island. With their crystal clear seas and powder-soft sands, these idyllic islets are ideal for snorkelling, sunbathing or swimming, and create stunning settings for romantic picnics and sunset cocktails.

Alternatively, activity-seekers can discover adrenalin-fuelled adventures, such as sea kayaking, plus mangrove tours, cave explorations and visits to coastal villages, capturing the cultural charms of this sensational seascape. All water sports offered by the resort are non-motorised, to ensure a peaceful and pollution-free environment for all.

Whether you're in search of a romantic rendezvous, an ecological excursion or an action-packed adventure, Phi Phi Island Village Beach Resort is the perfect base from which to explore this enchanting environment.
For more information, please email sales@phiphiislandvillage.com or visit www.phiphiislandvillage.com.
---
For further information or high-resolution photography, please contact:

Pond Leartsinpakdee
Director of Sales & Marketing
Email: pond.l@phiphiislandvillage.com
Tel: (+66) 2 050 5555 Ext 303
Mobile +66 (98) 263-6464
E-mail: pond.l@phiphiislandvillage.com,
Website: phiphiislandvillage.com

David Johnson
CEO
Delivering Asia Communications
E-mail: dj@deliveringasia.com
Website: www.deliveringcommunications.com

About Phi Phi Island Village Beach Resort
Phi Phi Island Village Beach Resort enjoys a secluded, pristine tropical island location overlooking Loh Ba Gao Bay on Koh Phi Don. The resort boasts an impressive, exclusive 800-metre beachfront and offers guests a supremely comfortable back-to-nature experience with 201 rooms comprising 189 contemporary Thai style bungalows and 12 private Hillside Pool Villas across 70 acres of lush tropical gardens surrounding a custom-design lagoon-shaped pool and a long and elegant beachfront infinity pool. The resort offers four restaurants and three bars providing a diverse choice of cuisines set against a backdrop of exquisite views, while Wana Spa offers jungle cottages ideal for couples' spa treatments. The resort offers assured privacy and intimacy in the shade of swaying coconut palms with fragrant gardens that open onto the sparkling blue waters of the Andaman Sea. With the stunning flora and fauna of the Nopparattra National Park on their doorstep, the owners and employees at Phi Phi Island Village Beach Resort are committed to preserving the stunning natural surroundings and have implemented a number of ongoing sustainable initiatives to reduce the resort's ecological footprint.
About S Hotels & Resorts
S Hotels & Resorts, a subsidiary of Singha Estate Public Company Limited, is a new era Thai-inspired personalized hospitality company that caters to upscale travellers with an independent spirit. The group offers guests a portfolio of 39 properties in 5 countries with a total of 4,647 keys and provides guests with the opportunity to experience the best destinations from a unique perspective while enjoying world class facilities and tailored services. S Hotels & Resorts' properties are located in attractive, unspoiled locales to provide an exclusive playground built around nature, culture, wellness and adventure, with luxurious amenities and fine cuisine. Each property boasts its own distinctive, destination sensitive designs and unique signatures while also providing consistency thanks to a well-defined brand philosophy and a service culture that focuses on exceptional guest experiences backed up by Thai-inspired hospitality and global quality standards. To learn more, visit www.shotelsresorts.com.